Ski Dogs

Could it get any better than this......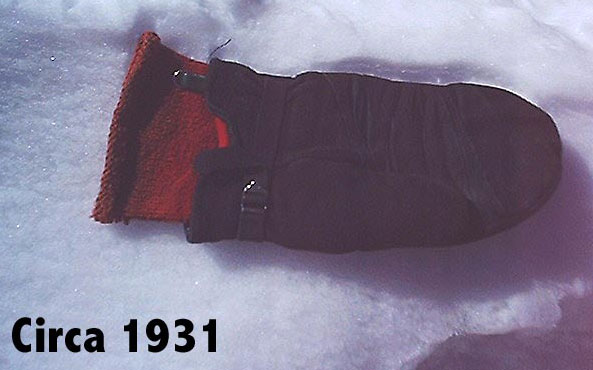 O'Neill resigns, old news this week, but the self-caricaturization isn't...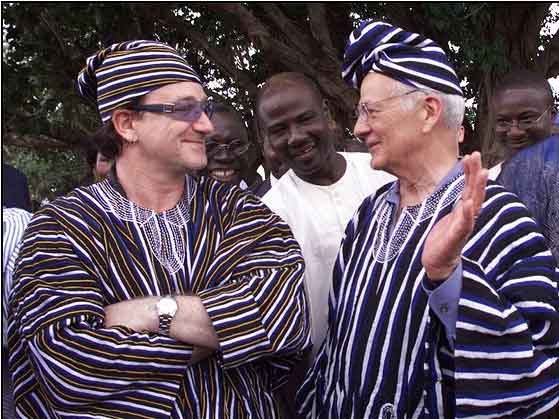 O'Neill and Bono on "African" tour!

While "painting" a verbal caricature might often be a theme here, why bother when one does it on their own.  A mother-lode of this style was lost when Paul O'Neill, treasury secrerary abruptly resigned last week.

"The president enjoys his blunt, plain-spoken approach," White House press secretary Ari Fleischer said in a vote of confidence for the embattled treasury secretary last year.  So do I, To wit:

O'Neill on nuclear power: "If you set aside Three Mile Island and Chernobyl, the safety record of nuclear is really very good."

On currency traders: People who "sit in front of a flickering green screen" all day, are "not the sort of people you would want to help you think about complex questions."

On currency trading: Something he "probably could learn about in a couple of weeks."

On the attention he's received: "I'm constantly amazed that anyone cares what I do."

On the criticism he's received: "If people don't like what I'm doing, I don't give a damn. I could be sailing around on a yacht or driving around the country."

On the House Republican economic stimulus package: "Show business."

On the Enron mess: "Companies come and go. It's . . . part of the genius of capitalism."

On the federal bureaucracy: A place where the world is run "in stupid ways defined by stupid rules."

Perhaps O'Neill's finest hour occurred in a Senate Budget Committee hearing during a 15-minute exchange with Sen. Robert Byrd (D-W.Va.) over who had endured the poorer childhood. Byrd suggested that O'Neill's status as a Cabinet secretary and former corporate chief put him out of touch with the struggles of average Americans. An abridged version:

"Senator, I started my life in a house without water or electricity," said O'Neill. "So, I don't cede to you the high moral ground of not knowing what life is like in a ditch."

"Well, Mr. Secretary," Byrd responded, "I lived in a house without electricity too. No running water, no telephone, a little wooden outhouse."

"I had the same," said O'Neill.

"I started out in life without any rungs in the bottom ladder," Byrd said. "I grew up in a coal miner's home. I married a coal miner's daughter. So I hope you don't want to start down this road on talking about our backgrounds and how -- how far back we came from."

At one point, it appeared that O'Neill had tears in his eyes.

"No," he said, when asked about it, "that was fire."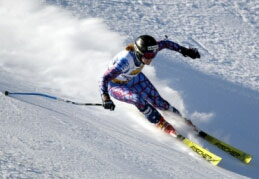 Kirsten Clark makes a "Ski Dog" patented "High Banked" turn during the super G race at the 2002 Chevy Truck Aspen Winternational. Clark placed fourth.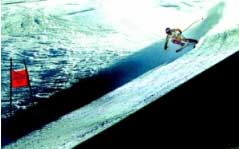 Ski Dogs Front Page From 12/15/2002