Ski Dogs

Could it get any better than this......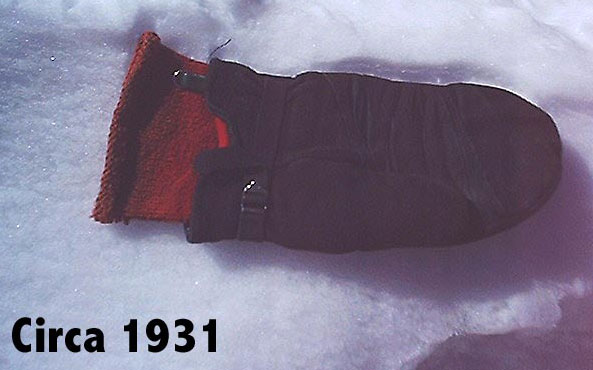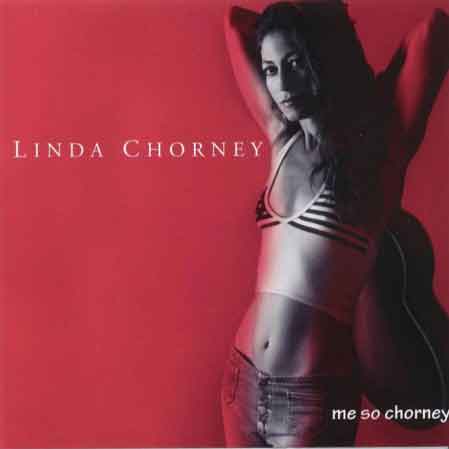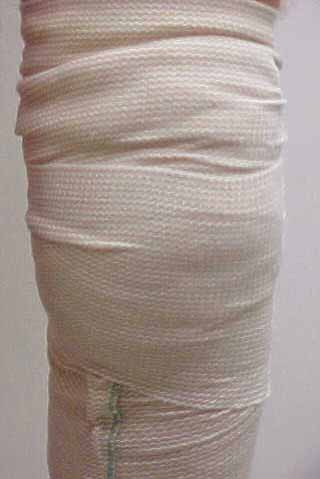 What is this contest?  Let us know your best guess as to what this is (above) and we will reward the winner with infamy and notoriety, posting the winning guess here. Send your entry to Contest@SkiDogs.org. or click below.....


A Turducken ready for the oven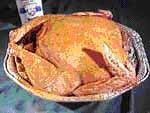 The vegetarian's worst nightmare, the ultimate objet de fete, a high in Turkey Technology, and a great consideration for Xtreme BBQing.  The Turducken is a Frankensteinian kitchen creation that few people have heard about.

So what is a Turducken?  A Turducken is simply a chicken stuffed with shrimp dressing and covered with andouille (sausage) dressing.  The chicken is then stuffed inside a duck, which is in turn covered with a cornbread dressing.  The duck is then stuffed inside a turkey.  After about a nine hour cooking process the turducken is served with sweet potato eggplant gravy.  Of course anyone who would consider indulging in the preparation of or consumption of a turducken also loves bacon.  For that little extra, bacon designs on the exterior of the turkey can enhance the initial "objet de fete" into an "objet d'art".  Below right is a turducken dressed with a bacon bow tie and "fake" bacon ribs.  Snow crab legs can even be used for an arachnoid style presentation!

Want to make your own Turducken?  You don't need a plasma physicist to assemble one.  Follow this link for actual Turducken construction plans.  One Turducken can serve up to 40 persons! 

Turducken Recipe.  After preparing a Turducken one frequently feels feelings of loss, depression or simply a void.  To aid in relieving these feelings consider another project.  Here is the link for a whole stuffed Camel recipe.  Whole Stuffed Camel Recipe.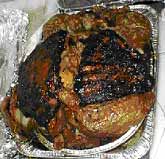 The Ski Dogs wish everyone a happy Thanksgiving

Boy O' Boy is Michael in Trouble Now......

The self named "King of Pop" or as some call him Peter Pansy, was arrested for child molestation on the eve of the release of his new album.  Allegedly he plied a 14 year old terminal cancer patient with alcohol and drugs who only wanted to meet Michael as a dying wish.  Apparently Michael didn't court on the lad's recovery.  Reportedly there was a delay in Michael's apprehension following the warrant, ostensibly so that Michael could get his make-up in order for his mug shot.  The heinousness of these circumstances can only be relieved with humor so here it goes.

What is the difference between Michael Jackson and a grocery bag?  Answer:  One is white, made out of plastic, and dangerous for children to play with.  The other is used for carrying groceries.

Did you hear Michael Jackson showed up at Kmart.  Apparently boy's pants were half off!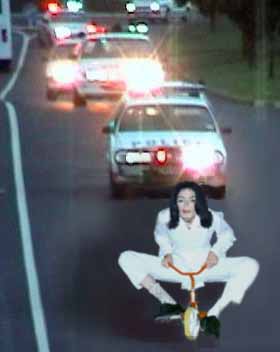 Looking for a special gift ...

The Origami Boulder II combines craftsmanship, ancient culture, creative design, recycling, individuality, aesthetics, with an oriental motif that reeks of relaxation, tranquility, pleasing and interesting lines that take you to new places of thought imagination and insight.  No two are exactly alike, yet each one combines a sense of fluid motion along with solidarity, certainty, and reassurance.  The inherent sincerity of the design concept, along with the boulder theme provides an anchor in these troubled, changing times.  One can always count on the Origami Boulder II "Being there".  Each one is individually made when ordered by our discriminating customers, no mass production for this work of art!  Once you get to know your own Origami Boulder II you'll find a rewarding and fulfilling relationship that will take you to a new higher emotional level offering the opportunity for powerful insights, understanding and functionality.  Further the Origami Boulder II is totally redesigned from the original Origami Boulder with the

Jackson above, the object of an "O.J." style police chase prior to his arrest....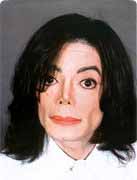 Michael's mug shot, apparently he wanted his makeup just so.....

For previous news on Michael Jackson checkout Weird News above......

addition of all the suggestions, comments, improvements and requests made by our customers.  For example the "Office Model" Boulder is labeled
"No Basura"
to prevent Latino speaking after hours crews from removing this precious piece as part of routine cleanup.  Consider the Origami Boulder II to let your gift recipient know and feel the specialness that ensues upon its reception.  You will always be remembered for giving this treasure.  Every time it is viewed you will be thought of!  And for those followers of
www.SkiDogs.org
a special behind the scenes expose will be available in the future on site, showing design secrets and even directions for a DIY model.  Enjoy....
www.SkiDogs.org
.

What's next from Seattle......Turkey and Gravy Soda?

That's right!!!  Seattle's newest entry in the drink wars is a "Turkey and Gravy" soda.  Creators indicate that it is selling better than expected.  Again the inventor of the murky brown liquid claims; "If you put turkey and mashed potatoes in a blender and let them sit around for three days you'ld pretty much nail down the flavor of this soda."  Interestingly the soda company is named "Jones".